Furnace Repair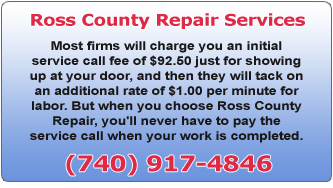 Is your furnace on the fritz? Don't despair! The licensed professionals at Ross County Repair Services are prepared to provide you with prompt, efficient furnace repair. With over 35 years of experience, you can rely on our esteemed technicians to quickly and accurately troubleshoot and diagnose any of your heating issues. Dedicated to providing each and every customer with truly exceptional handiwork and precision, we'll deliver the prompt furnace service you need without any of the extra costs. In fact, we'll waive the service call fee with a completed repair! Don't let a malfunctioning furnace detract from the comfort of your home—call Ross County Repair Services today and let our furnace repair service take care of you!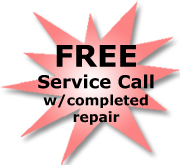 Contact Ross County Repair Services for furnace service if you are experiencing any of the following symptoms:
Unit will not generate sufficient heat
Unit will not turn on at all
Loud squealing or rumbling noises are coming from furnace
Thermostat is inaccurate
Unit perpetually cycles on and off
Blowers are stuck in the "on" position
Pilot light or ignitor is not working
At Ross County Repair Services, we pride ourselves on giving our customers premier furnace service at an affordable price. We understand how important value is when it comes to heating costs. In addition to ensuring some of the most affordable prices in town, we also offer various warranties on parts and labor (ask for specifics on your project) to protect your investment in the long run. When you're looking for a furnace repair service that's designed to save you money, Ross County Repair Services is your answer.
Ross County Repair Services is fully licensed, bonded, and insured, and our heating and furnace repair technicians are qualified to work on all sorts of heating systems. Whether you need oil or gas furnace repairs, we have your solution. For more information about the range of furnace repairs we provide, contact us via phone or e-mail.
Mobile Home Heating Repairs
In addition to providing furnace repair for houses in Chillicothe and the surrounding communities, Ross County Repair Services is also your source for mobile home heating repairs. Due to their compact size, mobile homes often have heating systems that are different from the furnaces that are used in regular houses. Fortunately, our team is extremely knowledgeable and skilled when it comes to all different types of heating systems, and we're capable of repairing mobile home heating units with total precision and ease. We're one of the few furnace maintenance and repair specialists in the area you can count on for mobile home heating repairs, so call today to learn more.
gas furnace repair
furnace repairs