Dryer Repair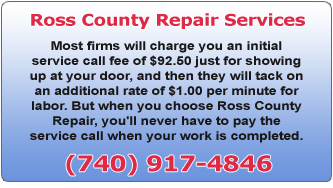 Are you stuck pinning wet clothes to a line or hauling your clothes to the laundromat due to a broken dryer? If your daily routine is suffering because of a broken clothes dryer, call the team at Ross County Repair Services for professional clothes dryer repair. Whether you have a broken door switch or a unit that won't function at all, our dryer repair technicians will provide you with skilled, efficient repair solutions that will have your dryer restored to working order in no time. To learn more about our professional dryer repair service, call or e-mail us today!
The staff at Ross County Repair Services has over 35 years' combined experience, so you can trust that we have the necessary knowledge, skills, and tools to address just about any washer and dryer repair issue. Our technician have experience working on all dryer makes and models, including high-efficiency and stacked units, so no matter the type of model, or extent of the issue, you can count on us for thorough, high-quality service. Some of the most common symptoms requiring dryer repair that we address include: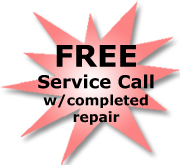 Failure to start
Failure to heat
Overheating
Excessive drying times
Failure to tumble
Damaged or marred clothing
Excessive noise
If you are experiencing any of these problems, or are simply dissatisfied with the performance of your dryer, call Ross County Repair Services today. We pride ourselves on offering excellent customer service, along with comprehensive, distinguished clothes dryer repair to the residents of Chillicothe and beyond. All of our dryer repairs are backed by our parts and labor guarantees (details vary by project so inquire about specifics), so you can trust that our solutions will keep your dryer fully functional well into the future.
Dryer repair is best left to the professionals, due to the risk of fire, electrocution, and other hazards, so put down the dryer repair manual and call Ross County Repair Services to schedule your service call now! Our licensed, bonded, and insured washer and dryer repair technicians are standing by 24/7, so what are you waiting for? Contact us for more information about our reliable, long-lasting dryer repairs.
Washer Dryer Repair
Clothes Dryer Repair