Air Conditioner Repair
Air conditioning is more than just a luxury that makes you comfortable in the summer. Living and working in a cooled environment also keeps everyone productive, healthy, and happy. If your home or small business requires air conditioner repairs, don't hesitate to call Ross County Repair Service. With more than 35 years of hands-on experience, our professional air conditioning contractors have been bringing the Chillicothe area fast service and quality craftsmanship for decades. We even offer emergency air conditioning repair service to ensure that you never have to put up with sweltering rooms or sweaty foreheads. Contact us via phone or e-mail today, and let our family-owned appliance repair business help you keep cool.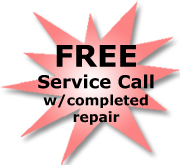 Some common problems that require air conditioning service include:
Water dripping into your building
Units that cycle too frequently
Noise coming from the air conditioner
AC that will not turn on
Units that don't produce enough cold air
If you're experiencing these, or any other air conditioning problems, give Ross County Repair Service a call right away. Our pros can provide you with the air conditioning service you need to get your air conditioner back in peak working order again ASAP.
Window Unit Air Conditioning Repair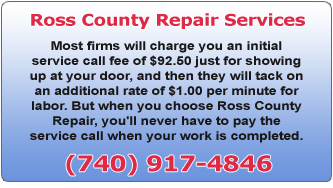 If you need air conditioner repairs performed on your window unit, our air conditioning contractors can quickly assess your unit and determine the cause of your troubles. Some air conditioning service tasks our experts can perform on your window unit include:
Cleaning the mesh filter
Combing, straightening, or replacing evaporator and condenser fins
Repairing malfunctioning coils
Cleaning fan blades
Resolving refrigerant leaks
Replacing blown fuses or tripped breakers
The air conditioner repair professionals at Ross County Repair Service will perform repairs and maintenance with the very best tools and products to ensure that your air conditioner is back in perfect working order as soon as possible.
Central Air Conditioning Repair
Do you suspect that your central air conditioning has an electrical defect or think you are dealing with weak air flow due to an obstruction in your duct work? Let the professional air conditioner repair contractors at Ross County Repair Service tell you for sure! We will troubleshoot, diagnose, and cure what ails your malfunctioning central air unit, whether the problem lies with an overloaded motor or a broken air handler fan. Our seasoned air conditioning contractors have seen it all before, and we can handle any air conditioning repair need that you have!
If your air conditioner breaks, there is no need to suffer through June, July, and August. Call Ross County Repair Service for expert air conditioning service from an experienced team dedicated to expert workmanship and 100% client satisfaction. We even waive our service fee with a completed repair and provide varying parts and labor warranties to complement our work. Our professionals are here to take care of you, so call today!
Air Conditioning Service
Air Conditioning Contractors