Washing Machine Repair

Washing machines help us look and feel our best, by allowing us to access clean clothes and linens with the push of a button or turn of a dial. When your washing machine malfunctions, it can seriously upset your daily routine, as you are stuck trying to wash clothes in the sink or struggling to find time to run to the laundromat. When you find yourself stepping around piles of laundry because of a broken appliance, call Ross County Repair Services for professional washing machine repair. We have the skill and expertise you need to get your laundry room up and running again in no time. Our washer/dryer repair specialists are standing by 24/7, so what are you waiting for? Call or e-mail us for more information today.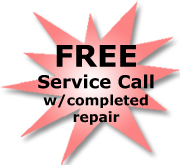 At Ross County Repair Services, we pride ourselves on our dedication to high-quality workmanship and excellent customer service. When you call us for washing machine repairs, our technicians will put our extensive knowledge and hands-on experience to work for you, thoroughly troubleshooting and diagnosing the cause of the problem in order to develop a strategic repair solution. Our team of washer and dryer repair specialists has experience working on every brand and model, and we are fully equipped with the skills and tools necessary to effectively address a wide variety of symptoms, including:
Leaking
Failure to drain
Failure to fill
Failure to start
Incorrect water temperatures
Failure to agitate
Strong vibrations on outside of machine
And more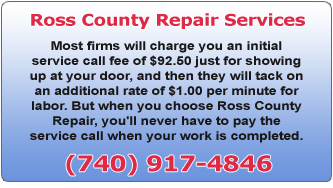 If you are experiencing any of these issues, or are simply unhappy with the general performance of your machine, call Ross County Repair Services for professional washing machine repairs. Ignoring the problem or procrastinating will only cause the issue to become exacerbated, so it is important to act quickly when you notice even the slightest change in your washer's performance. The washer/dryer repair specialists at Ross County Repair Services are available 24/7, 365 days a year, and we offer emergency services, so you can rely on us for quick, efficient service when you need it most. When you need washer and dryer repair, don't let an amateur job put you at risk for personal injury and property damage—call the pros at Ross County Repair Services. Whether you have a top loader that won't fill or a high-efficiency front loader that is leaking, we'll help you find a long-lasting washing machine repair solution that will have your unit running in prime condition once again. Call or e-mail us to learn more about our comprehensive washing machine repair services in Chillicothe and the surrounding towns.