Tree Services
In addition to providing appliance repair services, Ross County Repair Services is also pleased to offer our Chillicothe-area customers professional tree removal services. We're able to provide comprehensive trimming, felling, and stump removal services to address any needs you may have related to dead or unwanted trees, so when you need a local tree contractor, we're here to help you.
Tree Removal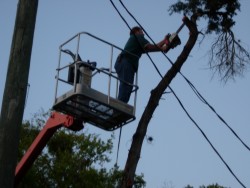 Trees are often beautiful assets to your landscaping and property, but that isn't always the case. Whether you have a dead tree you need cut down or an overgrown or otherwise unattractive tree you're just ready to have removed, Ross County Repair Services has the tools and know-how to take care of you and your property. We specialize in complete tree removal as well as our appliance repair offerings, and we're ready to help ensure you receive tree felling services that are safe, affordable, and of the highest quality.
Our tree contractor team can assist you with trees that are:
Dead or diseased
Overgrown
No longer wanted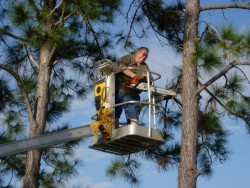 From cutting down a single tree to assisting with larger projects like lot clearing, the tree contractors at Ross County Repair Services are standing by to serve you. If you need help with tree removal on your Chillicothe-area property, give us a call today.
It's important to remember that tree felling is an extremely dangerous undertaking. There's a lot that can go wrong when you're attempting to take down a tree on your own, so it's typically best to leave this kind of project safely in the hands of professionals. Our tree contractors have years of experience in the business, and we always create a careful plan customized to each tree removal job to make certain that you, your home, and your surrounding property are safeguarded throughout the entire process. Our pros are here to ensure you stay safe, so rather than trying to bring down a tree by yourselfand literally risking life and limb in the processcall the team at Ross County Repair Services for the peace of mind you deserve.
Tree Stump Removal
While some tree removal services only take down the tree itself, leaving you with an unsightly stump marring your landscape, Ross County Repair Services is available to take care of the entire project from start to finish. Our stump grinding and removal services are designed specifically to address the issues unattractive stumps create, and we can provide tree stump removal services as part of a complete tree felling project or as a stand-alone service to address an existing stump. No matter what you need when it comes to stump grinding, we can help! To get started or to learn more about our tree stump removal services, feel free to give us a call or send us an e-mail right away!
Tree Trimming
As well as being able to remove entire trees, Ross County Repair Services is also available to trim trees for both aesthetics and safety. We can help you with:
Dead or diseased limbs
Overgrown or low-hanging branches
Limbs and branches that are too close to buildings
Our goal is to provide you with the tree trimming service you can rely on to take care of your trees no matter what your needs. Our tree pruning services start with a discussion regarding your project goals so that we can identify which limbs need to be removed and why. Then our tree contractors will carefully cut off whatever branches are slated for removal to leave your property looking neater, cleaner, and all-around better. When you bring in Ross County Repair Services for your tree trimming service, you can rest assured that we'll protect both persons and property throughout the entire tree pruning service. We're here to get the job done right. For more information, please don't hesitate to contact us now.
Our Free Service Call does not apply to our Tree Services sorry for any inconvenience.