Refrigerator Repair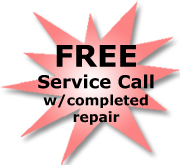 When it comes down to it, your refrigerator is probably the most indispensable appliance in your home. Keeping all of your perishable food and beverage items cool, it helps keep you and your family healthy and never hungry. But if your refrigerator has stopped performing that basic function, then it can become an overwhelming frustration very quickly. So don't let your stress get the best of you—simply call the professional technicians at Ross County Repair Services for prompt, affordable refrigerator repair at the first sign of trouble. Failure to get the refrigeration repair you need right away can result in massive food spoilage and a huge mess, not to mention the loss of your hard-earned cash, so don't put it off. Ross County Repair Services is here to offer superior expertise when it comes to all kinds of refrigerators and repair services, and we know that you'll be blown away by the results. Learn more when you contact us today!
Call Ross County Repair Services for refrigerator repairs if you're experiencing any of the following issues with your unit:
Not enough cooling
Too much cooling
Inadvertent freezing of food and beverages
Excessive buildup of frost
Internal and/or external water leaks
Not cycling off
Not running at all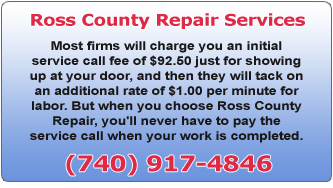 With over 35 years of hands-on training and experience, Ross County Repair Services has what it takes to make certain that your refrigeration repair project goes off without a hitch. Before undertaking any refrigerator repair, we'll painstakingly examine and accurately troubleshoot your malfunctioning unit in order to ensure we deliver the most appropriate and effective solution possible. With our team of savvy technicians at the helm of any refrigerators repair service, you can rest assured you're receiving nothing short of dependable workmanship and some of the best customer care in Chillicothe. Whether you have a Maytag, Whirlpool, or GE model, you'll be able to rely on us for swift, long-lasting results.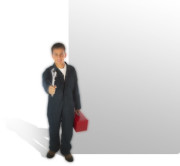 At Ross County Repair Service, all of our refrigerator repairs are backed by great warranties on parts and labor (details vary by project, so inquire for specifics on our guarantees). We're fully licensed, bonded, and insured with a total of five different contractor licenses, which means our dependable handiwork is held to a higher standard than most other refrigerator repair companies in the area. Refrigeration repair is a serious investment, and it's best to entrust yours to a certified professional. Call or e-mail Ross County Repair Services to book an appointment for your refrigerator repair right now!