Plumbing and Electrical
In addition to our appliance repairs, Ross County Repair Services is proud to offer a full range of electrical and plumbing repairs to the residents of Chillicothe and the surrounding region. With over 35 years of experience, our technicians have the knowledge and know-how to address a wide variety plumbing and electrical issues, such as: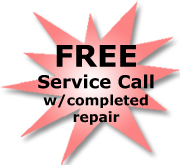 Frozen water lines
Leaks
Clogged drains
Sewage backups
Lights flickering or burning out
Dead outlets
Frequently tripped circuit breakers
And many others
Whether you are struggling with a leaky water heater, or a wall switch that doesn't seem to do anything, Ross County Repair Services can help. We pride ourselves on our honest, reliable service and will put our expertise to work for you, restoring full functionality to your home. You can rely on our skilled technicians for high-quality workmanship and impeccable customer service that will keep your plumbing and electrical infrastructure running smoothly well into the future.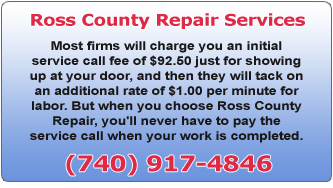 Murphy's Law dictates that anything that can go wrong will go wrong, and this is often the case when it comes to home repairs. If it seems like your home is falling apart at the seams, don't fret—call the team of repair professionals at Ross County Repair Services. Whether you have an overheating dryer and a clogged sink or a sparking stove and a series of blown fuses, you can count on us to get things back in running order, with only a single service call! Don't worry about trying to juggle an electrician, a plumber, and an appliance repair specialist—Ross County Repair Services can handle it all, no matter what the problem. If you are having trouble with a wire connection, or your sink is backed up, our experienced repair team will thoroughly troubleshoot and diagnose the source of the problem in order to develop a custom, comprehensive repair solution. From replacing circuits and fuses to cleaning drain traps and sealing pipes, you can count on us to get the job done with precision and skill. To learn more about the plumbing and electrical repair services offered by Ross County Repair Services, call or e-mail us today!