Oven Repair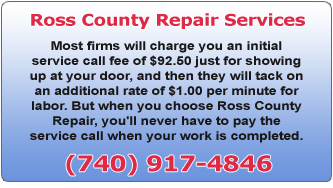 Has a broken oven or range left you struggling to prepare meals? Are you tired of dealing with hotplates, electric burners, and takeout containers? When you need professional oven repair, look no further than Ross County Repair Services. With over 35 years of experience in the appliance repair industry, we're your source for attentive, high-quality oven repair service in Chillicothe and the surrounding communities. Whether you have a gas or electric unit, our team of range repair technicians has the knowledge and skills to get the job done right. To learn more, give us a call or shoot us an e-mail.
When your oven or stove isn't working properly, the negative repercussions can be far reaching. In addition to interfering with family dinners, and potentially diminishing the quality of your meals, a malfunctioning range can present a serious safety hazard. The oven repair specialists at Ross County Repair Services are trained to work on ovens, ranges, cooktops and stoves of all makes and models, so no matter what type of unit you have, or how severe the issue, you can count on us for comprehensive, professional oven repair solutions. Our extensive experience allows us to efficiently troubleshoot and diagnose a wide range of oven and range repair issues. Some of the most common symptoms requiring oven repair services include: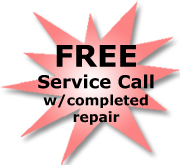 Failure to heat
Uneven heating
Overheating
Ignitor failure
Thermostat malfunctions
Worn door gaskets
Self-cleaning malfunctions
Failure or malfunction of lights, timers, and other features
While it may be tempting to try and fix the problem yourself, the risk of electrical shock, fire, and gas leaks means that oven repair is typically best left to the professionals. Ross County Repair Services offers the expertise and superior customer service that you can trust. We stand behind all of our workmanship with various parts and labor guarantees (inquire for specific details), so you can rest assured that our range repair solutions will serve you well into the future. Whether you are struggling with a range burner that won't light, or an oven door that won't close properly, Ross County Repair Services can help. Our team of oven repair specialists is standing by 24-7, so if a broken range or oven is causing you strife, don't hesitate—call us for professional oven and range repair today!