Appliance Repair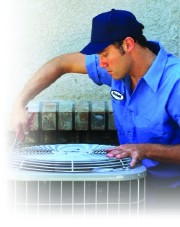 Dishwashers, refrigerators, washing machines, and other major appliances have come to be so commonplace in modern homes that we rarely even consider just how much we actually do need them. Of course, if your freezer has started leaking or your garbage disposal is clogged, preventing you from storing food safely or cleaning the kitchen efficiently, then you're probably painfully aware of just how much you rely on fully functional appliances to keep all of your chores on track. So if you're in the midst of an appliance performance issue—whether it's a minor lapse in efficiency or a total breakdown—then you'll need professional appliance repair service as soon as possible. Fortunately, the team at Ross County Repair Services is right around the corner, and we're equipped to handle virtually any appliance repairs you might have. From stove tops to microwaves to refrigerators, there's no appliance we can't fix.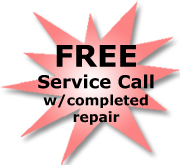 At Ross County Repair Service, we've been in the appliance repair trade for more than 35 years. What does that mean to you? Well, dealing directly with all makes and models for over three decades means that there couldn't possibly be something wrong with your unit that we haven't already seen multiple times before. We'll carefully examine and accurately diagnose your ailing refrigerator, dryer, dishwasher, or other household appliance before finally delivering effective, long-lasting results. Given our commitment to top-quality workmanship and precision, our appliance repairs are sure to resolve all of your unit's performance troubles. In fact, we're so confident in the quality of our appliance repair service that we offer warranties on parts and labor (inquire for specific details)!
If you're ready to get the most out of your appliances, call Ross County Repair Services at the first sign of trouble. Our appliance repair services are designed to treat any and all of the following appliances: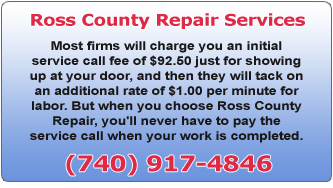 Refrigerators
Freezers
Ice makers
Wine coolers
Ovens
Stoves
Ranges
Hoods
Dishwashers
Garbage disposals
Trash compactors
Microwaves
Dryers
Washing machines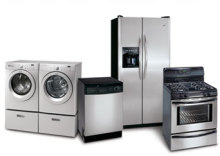 Whether your model is gas or electric, you'll be able to count on our team of experienced, skilled technicians to deliver some of the most reliable handiwork and efficiency in Chillicothe. We're deeply knowledgeable about the nuances of nearly every brand on the market, so no matter which make or model you own, you'll be able to count on our appliance repair company for exceptional precision at every turn. For affordable home appliance repairs you can count on when you're in a pinch, Ross County Repair Services is the name to know. Call or e-mail us today to schedule an appointment!