Services Offered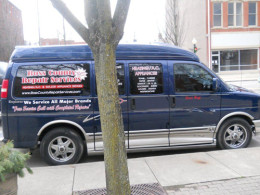 Providing major appliance repair services to homeowners throughout Chillicothe and beyond, Ross County Repair Services is dedicated to unbeatable workmanship and truly outstanding customer service. We've been working in the appliance repair trade for more than 35 years, and we use our deeply rooted knowledge to make certain that you're outfitted with home appliances that remain in full working order at all times. Whether you require refrigerator repair, dishwasher repair, or dryer repair, when you have Ross County Repair Services at your side, you'll get the well-rounded expertise you deserve.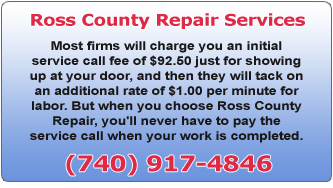 At Ross County Repair Services, our professional technicians are licensed, bonded, and insured. That means we're able to provide all of our customers with qualified appliance repair services that are sure to provide you with the utmost convenience and satisfaction. Our experienced specialists understand the frustrations produced by a malfunctioning appliance, which is why we're so committed to delivering attentive customer care in addition to top-quality appliance repair expertise. Regardless of whether you have a gas or electric model, we'll be able to get your kitchen or laundry room back in full working order as efficiently and effectively as possible. You can even count on our team for a selection of repairs for your HVAC equipment!
Call or e-mail Ross County Repair Services for any of the following services:
Refrigerator repair
Freezer repair
Ice maker repair
Dishwasher repair
Oven repair
Stove repair
Range repair
Hood repair
Wine cooler repair
Microwave repair
Garbage disposal repair
Trash compactor repair
Washing machine repair
Dryer repair
Furnace repair
Water heater repair
Plumbing and electrical hookups
Tree removal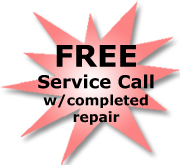 Regardless of what you need fixed in your suburban house, mobile home, or other residence, you can rest assured that there's a team of skilled, experienced specialists right here in Chillicothe ready to provide you with the impeccable appliance repair services you need. We're even certified with a total of five contractor licenses, and we're able to perform any additional electrical or plumbing work you need, regardless of whether it's related to the appliance in question. Adding to our tremendous service, we're also more than willing to uproot and remove any unwanted tree on your property.
Ross County Repair Services is your answer for maintaining everyday comfort and convenience without breaking the bank, so call or e-mail us today to schedule an appointment!
Microwave Repair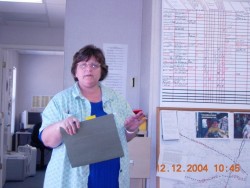 No matter how often you cook homemade meals, there's no denying the convenience of a fully functional microwave. Even if you whip up a fresh meal every night, you at least utilize your microwave to reheat a dish, defrost a chicken breast, or pop some popcorn. Due to its versatility, your microwave is a huge asset to your home—that is, until it starts to break down. If you've noticed a decline in your unit's performance, call Ross County Repair Services right away. We offer microwave repair for all of the industry's leading makes and models, so whether you need over-the-range microwave repair or standard countertop microwave repair, you'll be able to get the expert results you need.
Garbage Disposal Repair
Having a garbage disposal in your kitchen is a fantastic way to keep your cooking area clean without leaving food scraps in the trashcan to stink up the house. Unfortunately, due to the nature of their utility, garbage disposals are prone to clogs and messy leaks. That's why it's important that you have a garbage disposal repair professional take a look at it from time to time, in order to ensure that your unit keeps running as smoothly as possible. Even if it seems broken beyond repair, the expert technicians at Ross County Repair Services should be able to get to the source of the issue and come up with a swift, affordable solution.
If you're eager to keep your home or residential property in tip-top shape, Ross County Repair Services has the well-rounded expertise you need for truly impressive results on everything from furnace repairs to fridge service. We offer warranties on parts and labor (inquire for specifics about your project), and the service call is free with a completed repair—what do you have to lose? Call or e-mail us today to learn more!