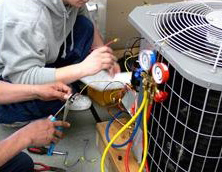 Household appliances like refrigerators, dryers, and ovens are a major reason why modern living is so comfortable and convenient—but, because we depend on them so regularly, they can derail all of our daily chores and routines with malfunctions both large and small. That's why it's crucial for you to get the appliance repair expertise you need as soon as you notice even a minor hiccup in the performance of one of your units. If you're looking for major appliance repair services in the Chillicothe area, then you need to call Ross County Repair Services right away. We offer everything from refrigerator repair to dishwasher repair, and we complete every single appliance repair job with the highest degree of precision possible. In fact, we even offer expert plumbing, electrical, and HVAC services to make certain that every facet of your home is in tip-top shape.
Major Appliance Repair Services
Plumbing and Electrical Work
Tree Removal Services
Fully Licensed, Bonded, and Insured
Free Service Call with Completed Repairs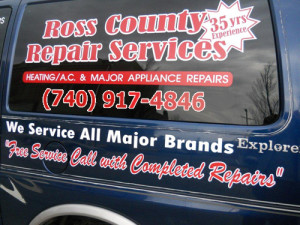 Major appliance repair services can address issues ranging from slightly frustrating to completely overwhelming. At Ross County Repair Services, we understand the stress and headaches that often result from malfunctioning appliances, which is why we're so dedicated to providing our customers with all-around customer care and convenience. Moreover, we're one of the most experienced appliance repair teams in the Chillicothe area, and we use our in-depth knowledge of all makes and models to deliver some of the most satisfying results possible. With Ross County Repair Services on your side, major appliance repair is a piece of cake!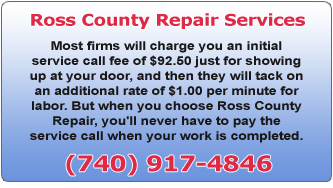 Ross County Repair Services is a family-owned, second-generation appliance repair business, and our founders actually have more than 35 years of hands-on experience in the trade. We serve the entire Chillicothe area with impeccable dryer repair, refrigerator repair, dishwasher repair, and more. With customers located in surrounding communities like Jackson, Circleville, Piketon, Waverly, Frankfort, North Fork Village, Deadman Crossing, Denver, Kingston, and Adelphi, we're the region's go-to resource for unfailing expertise and unbeatable customer service. Whether you need expert plumbing, electric, appliance, or furnace repair services, Ross County Repair Services is the team to call in Chillicothe and beyond. We're even available for tree removal services! Call or e-mail us today to schedule an appointment.
For your added confidence and protection, Ross County Repair Services is fully licensed, bonded, and insured. Also, the service call is free with a completed repair, and we back our parts and labor with various warranties (details vary by project, so contact us for specifics).